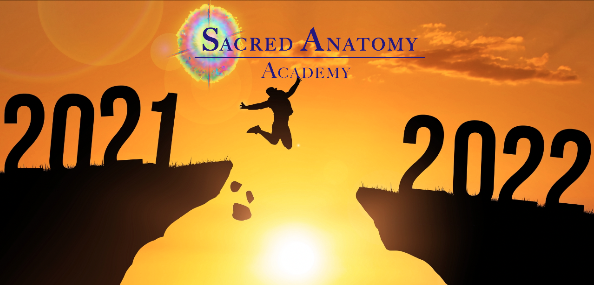 Set your Intention
for the New Year
On the Winter Solstice
December 21, 10:00 – 11:30 AM PST
Start Your Year With Intention!
What you will achieve in this workshop:
Release 2021
Make room for 2022
Clarify your personal vision for 2022
Set your intention for the new year
Align with yourself and others for individual and global healing
A 1 1/2 hour Sacred Anatomy
Workshop with Desda Zuckerman
Only $59
Register now and we'll send you the Zoom Link
The video and audio recordings will be available for everyone who registers.
Get a head start on your dreams!!!
New this year!
The extra value of doing this on the Solstice is to give yourself the chance to approach the last 10 days of this year as a holy time, one that is allowing you to contribute to the rising consciousness of our human species.
Each day before the end of the year, you will receive (by email) a brief and powerful exercise that is fun, and which will lighten the load we carry to the benefit of all.
We can join together in a big juicy energetic field to allow our vision for the future to arise.
On the Darkest Day of the Year,
We Claim Our Light!
2021 has been a mixed bag. A year of breakthrough and a year of splintering apart; it has moved us forward even as some voices proclaim their need to be "sovereign" and for the common good to include their personal choice to be excluded from it. The rules have changed to include things none of us ever thought we would need to legislate or codify. It's been heartbreaking to see old friends spin out while agreement seems difficult even for those who actually agree. Politics have entered friendships and families in a way that makes us all sad and confused, disappointed and worried.
This year because of all these things we have moved the Intention Setting up to the day of the Winter Solstice. This is so we can seize one of the strongest days of the year to repair the deep wounds to our culture, our society and ourselves. So that we can heal the gaping rifts between us and stand together in the bright light of hope.
We hold it in our hands and lift it up. It's a time to let go and a time to move forward with clarity and courage. Together we have the stuff that it takes to build anew, to reshape what we are as a community and a people and to acknowledge differences as a hallmark of that bright shining world. We don't agree on everything, but we can accept the differences between us as the grist for the mill of human potential. May we all move together toward 2022 with faith in our own journey and love for our companions on the path.
Join me on the Solstice as we release 2021 and dedicate the period of Dec 21st to Dec 31st as the Ten Days of Light. Let us reach out far and wide to all our friends and family, estranged or perhaps just distant, and shine the lamp of love and care on each and every person. May we forgive them past hurts, hope for their happiness, and may you take ownership of your own leadership in our human family.
To stand in the moment of the shift and be ready for your own hard work will require insight, confronting the fears that arise out of contemplation, and the willingness to lay your burdens at the feet of Creation. It is out of the spaciousness of release that you will move forward with a lighter heart and an open mind into the hopeful potential of your own gifts opening, revealing themselves.
Can you hear the guidance of the angelic realm as they sing you onward?
Can you see yourself fully engaged in the joyous possibilities of your own deepest calling? Can you feel your spirit stretching itself awake in your vision, your future, your own truth?
Meet Desda Zuckerman
Desda has made a life study of the subtle energies surrounding all living things. What began as a personal quest for understanding blossomed into a comprehensive mapping of Human Energy Anatomy and its precise application. This has been distilled into Sacred Anatomy Energy Medicine, an intentional healing modality. For the last 30 years, she has quietly taught classes, trained apprentices, and led healing sessions with thousands of clients. At last, these Sacred Anatomy teachings are revealed to benefit all healers, seekers, and students of human potential.
Today Desda Zuckerman is a dynamic healer, speaker, writer and teacher; passionate about bringing her message of grounded transformation and One Body conscious wellness to the world. With a loving heart, comprehensive knowledge, and heightened sensitivities honed by years of practice and insight Desda is leading the cutting edge of a new and expanding field.
Come join me and lift your
heart for a new and beautiful year!
All my love to you
and your loved ones,
Desda